Family Under Construction After The Thrill Is Gone Sermon Answers
Family Under Construction After The Thrill Is Gone Sermon Answers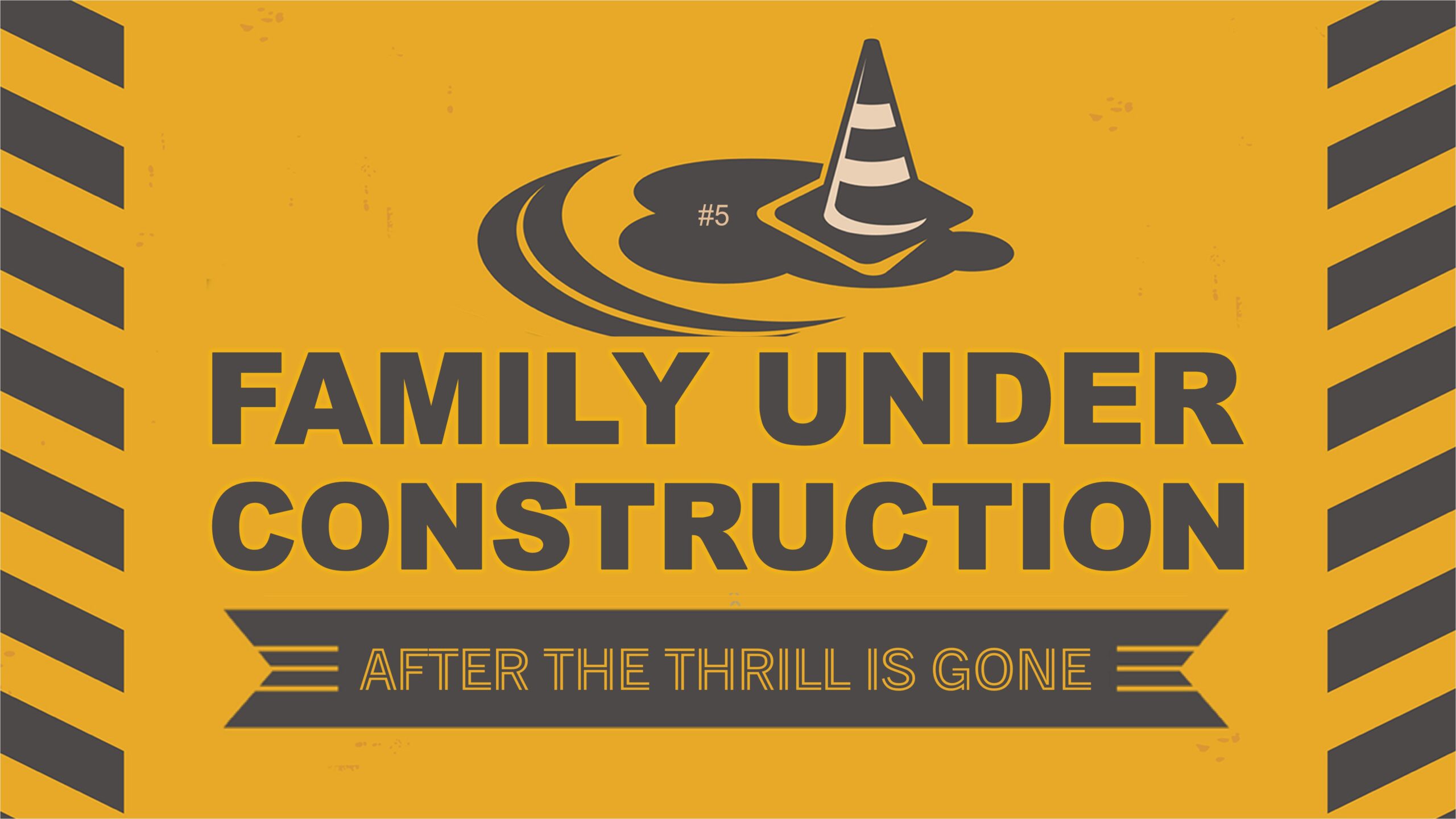 6 stages of deterioration in A relationship
ROMANCE –> REALITY–>  RUT–> REGRET –>  RESENTMENT⭬ REPUDIATION
5 steps to restore a deteriorating relationship:
But this is what I have against you: you do not love me now as you did at first. 5 Think how far you have fallen! Turn from your sins and do what you did at first. If you don't turn from your sins, I will come to you and take your lampstand from its place.  Revelation 2:4-5 (GNT)
STEP 1: RECOGNITION – …you do not love me now as you did at first.
Accept that my love is LACKING.
Acknowledge the KIND of love that God is looking for.
Agape love is not an EMOTION, it is a DECISION. 
It is not a FEELING, it is a FUNCTION.
Love must be sincere. Hate what is evil; cling to what is good. 10 Be devoted to one another in love. Honor one another above yourselves. 11 Never be lacking in zeal, but keep your spiritual fervor, serving the Lord. Romans 12:9-11 (NIV)
STEP 2: RECOLLECTION – Think how far you have fallen!
Alongside Babylon's rivers we sat on the banks; we cried and cried, remembering the good old days in Zion. Psalm 137:1 (MSG)
The young man felt so miserably hungry that he wished he could eat the slop the pigs were eating. Nobody gave him anything. 17 So he had this moment of self-reflection: "What am I doing here? Back home, my father's hired servants have plenty of food. Why am I here starving to death? Luke 15:16-17 (VOICE)
STEP 3: REPENTANCE – Turn from your sins…
No! I can guarantee that they weren't. But if you don't turn to God and change the way you think and act, then you, too, will all die. Luke 13:3 (GW)
So repent (change your mind and purpose); turn around and return [to God], that your sins may be erased (blotted out, wiped clean), that times of refreshing (of recovering from the effects of heat, of reviving with fresh air) may come from the presence of the Lord… Acts 3:19 (AMPC)
STEP 4: REPETITION – …and do what you did at first.
Things you probably "did at first" that you need to do NOW.
You need to be ATTENTIVE.
…live together in love, as though you had only one mind and one spirit between you. Never act from motives of rivalry or personal vanity, but in humility think more of each other than you do of yourselves. Philippians 2:2-3 (Phillips)
You husbands, likewise, conduct your married lives with understanding. Although your wife may be weaker physically, you should respect her as a fellow-heir of the gift of Life. If you don't, your prayers will be blocked. 1 Peter 3:7 (CJB)
You need to be AFFIRMING.
So encourage each other and build each other up… 1 Thessalonians 5:11 (NLT)
…outdo one another in showing honor.  Romans 12:10b (RSV)
You need to be AFFECTIONATE.
Husbands, love your wives [with an affectionate, sympathetic, selfless love that always seeks the best for them] and do not be embittered or resentful toward them [because of the responsibilities of marriage].  Ephesians 5:19 (AMP)
…King Abimelech of the Philistines looked out of his window one day and saw Isaac affectionately touching and caressing his wife Rebekah. Genesis 26:8 (VOICE)
Let her affection fill you at all times with delight… Proverbs 5:19b (RSV) 
You need to be ADVENTUROUS.
Enjoy life with your wife, whom you love…  Ecclesiastes 9:9 (NIV)
…God…richly provides us with everything for our enjoyment. 1 Timothy 6:17b (NIV)
STEP 5: REALIZATION – …I will come and take your lampstand…
Let the person who is able to hear, listen to and follow what the Spirit proclaims to all the churches… Revelation 2:7a (VOICE)
Look, I've given you two choices today: you can have life with all the good things it brings, or death and all the bad things it brings. Deuteronomy 30:15 (VOICE)